Want to Lose Weight, feel Fitter & have more Energy?
Join us now: Take our FREE 'Healthy Habits made Easy' challenge
Here's how we can help you to achieve your goals…
Want to Lose Weight, feel Fitter & have more Energy?
Are you BUSY helping others and don't allow time for yourself? Losing weight, feeling fitter & having more energy CAN be achieved within your busy schedule!
In just 5-days, we will show you how for FREE!
This challenge is NOT a one-size fits all approach that you try and end up right where you started. 
In our 5-day personalised challenge you will invest 10 minutes a day making small, fun & easy changes to your food & fitness habits that you can stick to.
Click HERE to learn more about our 5-day 'Healthy Habits Made Easy' challenge.
Here's what our clients say about us…
The Healthy Habits programme run by Billy encouraged me to explore needed changes in my lifestyle but in an easy and uncomplicated way. Using the step by step approach allowed and encouraged me to make small changes that had immediate impact. Just by recognising one small change (in my case it was establishing healthy snacks), but also breaking down that change into smaller step by step approaches, allowed me to explore potential barriers and solutions in a focussed way.
Even just after a couple of weeks I have begun to put into practise the small changes I needed to make to ensure I healthy snacks using the simple solutions approach. Sometimes to make lasting changes in your life you need some support, with Billy on your side you can begin to make those changes easily.
Billy works with you personally, not as a 'one size fits all' approach that comes with many other healthy lifestyle organisations. I personally would recommend Billy to support you in creating long lasting Healthy Habits.
Before starting 1:1 support with Billy, I was in a rut. I realised that it was time to put myself first again; I needed to get back into looking after myself physically as well as mentally, I was making limited progress on my own. I tried a few classes and swimming but never really disciplined myself to stick to a routine. I'd also started more mindful eating and reflexology, but I was still looking for help with the next steps to feeling physically and mentally healthy and fit again. I knew I needed some help with my self-discipline and a kick up the backside to do it!
My only concern before I came to my first consultation with Billy was the cost involved; but having met Billy and talked through my goals and learnt about his approach, I recognised immediately that the investment would be worth it.
Over the past year, my fitness levels have improved greatly through a planned step by step approach, working on strengthening and conditioning my body through a varied weekly programme which I actually look forward to!  Within a few sessions my achy knee stopped aching, and I was able to see real improvements in the exercises I could do, which really built my confidence. After about 6 months I was confident enough to add some pole walking to my programme and also some group fitness sessions – both things I was anxious about being able to do in the past. Now I take part regularly and really enjoy the activities.
The gains from having support from Billy are so many – everything is so personalised and focussed on my whole wellbeing including advice on nutrition when I need it.  I am normally risk adverse but having Billy's support available to me really helps to give me the resolve to push myself that bit more and feel good about myself again. I am feeling better in body and mind and happy. I also have realised that we cannot look after others if we get to the point where there is nothing left in the tank for ourselves.
The best thing for me so far is that I feel more capable, it has given me a lot more confidence physically. I am enjoying being fit again with the added bonus of a whole group of new friends too.
Our Latest Posts and Resources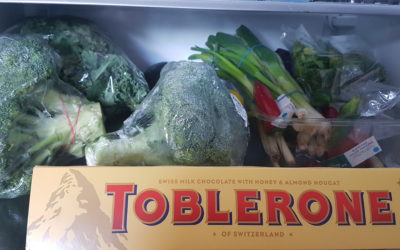 I've told this story now to several friends & fitness members and realised that snacking (and perhaps sometimes on less healthy options!) is actually something that others have also struggled with during lockdown. Hopefully, sharing this story and my experiences...
read more
Join us now: Take our FREE 'Healthy Habits made Easy' challenge